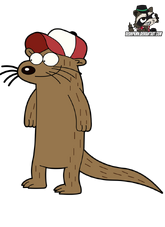 Doug Shablowski is a supporting villain in Cartoon Network's Regular Show.
Appearances
Doug and Huge Head commited crimes and framed Rigby and Pops for it.He dies at the end of the episode.
Relationships
Doug and Huge Head were crime partners and thus good freinds.
Doug and Rigby have a though history with eachother,as they are eachother's archenemie.
Doug and Mordecai didn't know eachother well,but as Mordecai is Rigby's best freind,they hate eachother.
Doug and Pops didn't hate eachother well,but Doug's best freind Huge Head is Pops' archenemie.
Death
When his HQ explodes he and Huge Head are still inside it.