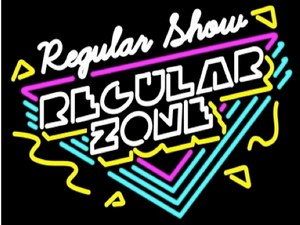 The 2013 Regular Show Regular Zone is a separate arcade attraction at the San Diego Comic Con International. It's in a building in front of a Petco. The whole area is based on Fuzzy Dice.
Description
The building is based on the Chuck E. Cheese parody in Regular Show. There are various video games based on games in the showm including the famous "Skeeze Ballz" game. Prizes include actual (differently colored) fuzzy dice and posters. There is an interactive game based on Just Set Up The Chairs. On the top of the building, there are two giant inflatables of Mordecai and Rigby are in their "OOOOHHHHHHHHHHHH" pose.
Gallery
The gallery for this page is here.